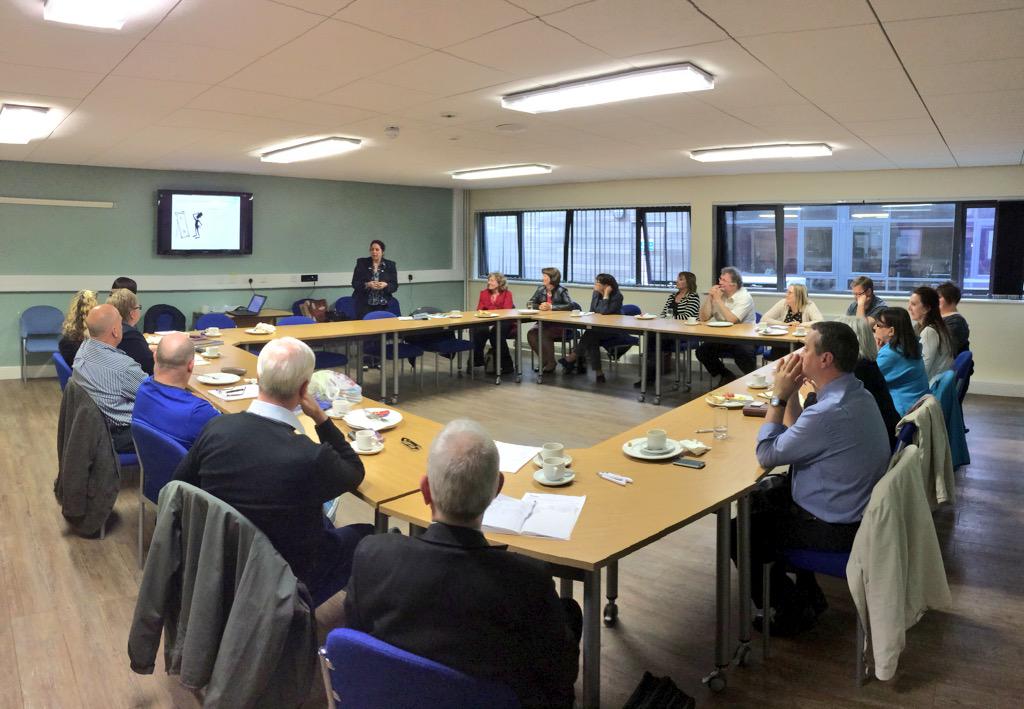 Leadership Links are development and networking opportunities targeted at local voluntary, community and faith (VCF) sector leaders, coordinators and managers.  
These sessions are an opportunity to network with sector colleagues, discuss themes and trends and support learning, knowledge and growth for local leaders.
Previous speakers include:
Fiona Clark, Chief Officer,




South Sefton CCG & Southport & Formby CCG

Jenny Stewart, Chief Executive  & Richard Daly, Commercial Manager




Liverpool & Sefton Chamber of Commerce

 Diane Moisley-Mason (DMM Training and Development Ltd)
---
Upcoming Leadership Links
Sefton CVS, in partnership with NCVO (National Council for Voluntary Organisations), are pleased to announce four Leadership Links training opportunities running from September 2017 until June 2018.
Who is it for? 
This Leadership Links programme is especially designed for Leaders, Managers and Trustees and is delivered locally at a lower cost to be affordable and accessible. The Programme is designed to help you perform better to meet operational challenges today and enable change for tomorrow whilst offering support and learning to build personal resilience, confidence and capabilities.
Benefits 
Become an influential leader who can positively impact both organisational culture and enhance your ability to respond to rapid shifts in the environment. You will understand how to manage change and respond to resistance.
Costs 
The cost for each of the one-day courses is £70 per person. This includes free parking, refreshments, buffet lunch and course materials. (Please note: Similar courses in London and across the UK cost £200 minimum, so please take advantage of this great opportunity!)
Alternatively, book the full programme of 4 courses for £250 (saving £30), please email training@seftoncvs.org.uk for more information about this offer. 
About the the Facilitator: Howard Exton-Smith 
Following a general management career in the private sector, Howard has over 20 years' experience as a consultant, trainer and coach specialising in personal and organisational development, strategy and governance, and the management of change.
He works at the intersection of the private, public and third sectors to build capacity by strengthening individuals and organisations. Client-centred and flexible, he employs a collaborative style to solve problems and participatory techniques to foster learning and ownership.
From a background in psychology, marketing and professional services, Howard has extensive experience of delivering successful learning, development and capacity-building programmes with a range of audiences. Howard leads NCVO's open-programme finance, risk and change courses and is also responsible for creating bespoke, in-company, courses when required.
Howard has lived and worked in Europe, Africa and North America and has been a Trustee and Chair of a UK charity. He holds an MSc in Management.
---
Leadership Links Session 1: Finding Focus
Wed 20 September 2017, 09:30 – 16:00
This course is suitable for chief executives and senior managers.
Finding Focus: being strategic in your choices
It's easy to be distracted when there are so many factors asking for your attention. As an executive, your attention is expected by a range of stakeholders – the board, the staff, the beneficiaries, the media, and the public.
It can be difficult to make progress with particular projects when you don't have the space for creative and innovative thoughts as you are concentrating on operational delivery. It can also be difficult to make progress when self-sabotaging behaviours are getting in the way.
This one-day course gives you the opportunity to bring a specific area you'd like to develop to a space conducive to finding focus. We will look at what holds you back in relation to this area: is it the choices you make or external pressures, or is it the stories you tell yourself about what's possible?
We'll be peeling back the layers and creating a space for you to take steps forward.
By the end of the session you will:
Develop a framework to examine what is happening

Have a strategy to implement to find greater focus around a specific goal, including actions to take to maintain the focus

Have a greater understanding of the internal narratives we have that hold us back

Understand the importance of creating an internal and external culture of self-care to support yourself and others to achieve progress.
Click here to book your place on Session 1: Finding Focus
---
Leadership Links Session 2: Making The Case
Wed 10 January 2018, 09:30 – 16:00
This course is suitable for chairs, trustees, chief executives and senior managers.
Making The Case: like beauty, benefits are in the eye of the beholder. 
This one-day course looks in detail at an aspect of organisational management that often doesn't get the attention it deserves – the idea and practicalities of benefits realisation. Conventional project-based management training rightly tends to focus on following the overall process and the balancing of inputs and outputs to deliver the objective.
But, whilst well-crafted objectives concentrate the manager's attention, they are downstream to the questions of "why?" and "so what?".
To answer these questions, you need to take a more strategic, future-focussed view and think about what you are trying to achieve and what needs, or is going, to change for you to be successful.
And, as in the adage "beauty is in the eye of the beholder", benefits realisation depends on the beneficiary – as part of your stakeholder management, it will be vital to identify who is the beneficiary, what they expect and how you are going to deliver their benefit. This will involve an understanding of influence, of how to overcome barriers and how perspectives can change over time.
As a result of attending this training, participants should:
Recognise and identify a benefit;

Better plan their delivery;

Be able to determine whether benefits have been delivered;

Have increased confidence in making the case.
Click here to book your place on Session 2: Making The Case
---
Leadership Links Session 3: The Strategy
Wed 21 March 2018, 09:30 – 16:00
This course is suitable for chairs, trustees, chief executives and senior managers.
The Strategy – from the vision to implementation. 
Thinking and acting more strategically is important for everyone these days. Suitable for anyone facing a strategic challenge, this course will help you get started by giving you some useful concepts, frameworks and tools you can use right away to improve your products, services and plans.
There will be a focus on understanding where you are now, creating a clear vision of where you want to get to, what you have to do to get there, and thinking about impact.
This one-day, practical course will give you an introduction to strategy and help you and your organisation achieves results and impact. The course will cover:
What is a "strategy"? It's what you achieve, not just what you do
Why it matters
How do I get one? Some tools, processes and techniques to get you going
Who does it? Good question – who do you think?
How will I know if I have been successful? Thinking about impact.
Click here to book your place at Session 3: The Strategy
---
Leadership Links Session 4: Good governance in the charity board room
Wed 27 June 2018, 09:30 – 16:00
This course is suitable for chairs, trustees, chief executives and other charity governance professionals.
Good governance in the charity board room – creating the right culture. 
A strong and supportive board is an asset to any charity, and can be of great value to the chief executive. With capable, committed people round the board table, a culture of engagement, understanding and support can be developed, giving cover in the bad times and celebrating success in the good times.
Developing a truly effective board takes planning, time and focus. It's a continual journey, rather than a one-off event.
This one-day course is a must for those wishing to build an effective board or those helping their board with succession planning and governance strengthening.
The workshop will consider:
Dealing with uncertainty – what do we need from our board in today's world?
Sustainability and succession – what needs to happen to build and retain the board we need?
What's holding us back from that and what can we do?
How systems, processes and administration can support the development
The components of effective recruitment, induction and ongoing board support
The benefits and approaches to board review
How you will implement changes for your organisation.
Click here to book your place at Session 4: Good governance in the charity board room