Sefton CVS Awarded Level 1 of the Social Value Quality Mark and Bursaries for Sefton's VCF Sector

We are delighted to announce that we have been awarded Level 1 of the Social Value Quality Mark®. Endorsed by health leaders across the Cheshire and Merseyside Health and Care Partnership, The Social Value Quality Mark is a recognised external accreditation of values-led organisations and seeks to cultivate and validate the highest standards of excellence. It is one of the most rigorously tested standards of its kind.
Social value is defined as the positive change an organisation can bring about in the community in which it operates.
Deborah Butcher, Designate Place Director for Sefton, said: "We congratulate Sefton CVS on achieving this award, which is a testament to the culture and approach the organisation has fostered over many years in its support of the wider VCF sector in the borough.
This approach is so important to the work we do together across local health and care through our Sefton Partnership, part of the wider CMHCP, with the aim of improving the lives of our people in Sefton."
To gain the Quality Mark, we have made a series of commitments to create, measure and report the social value it generates.
As part of this process the organisation has also made a number of pledges on key issues such as increasing diversity in the workplace and achieving the Minimum Living Wage Accreditation.
Other pledges include a commitment to providing more training and employment opportunities and work placements in the sector.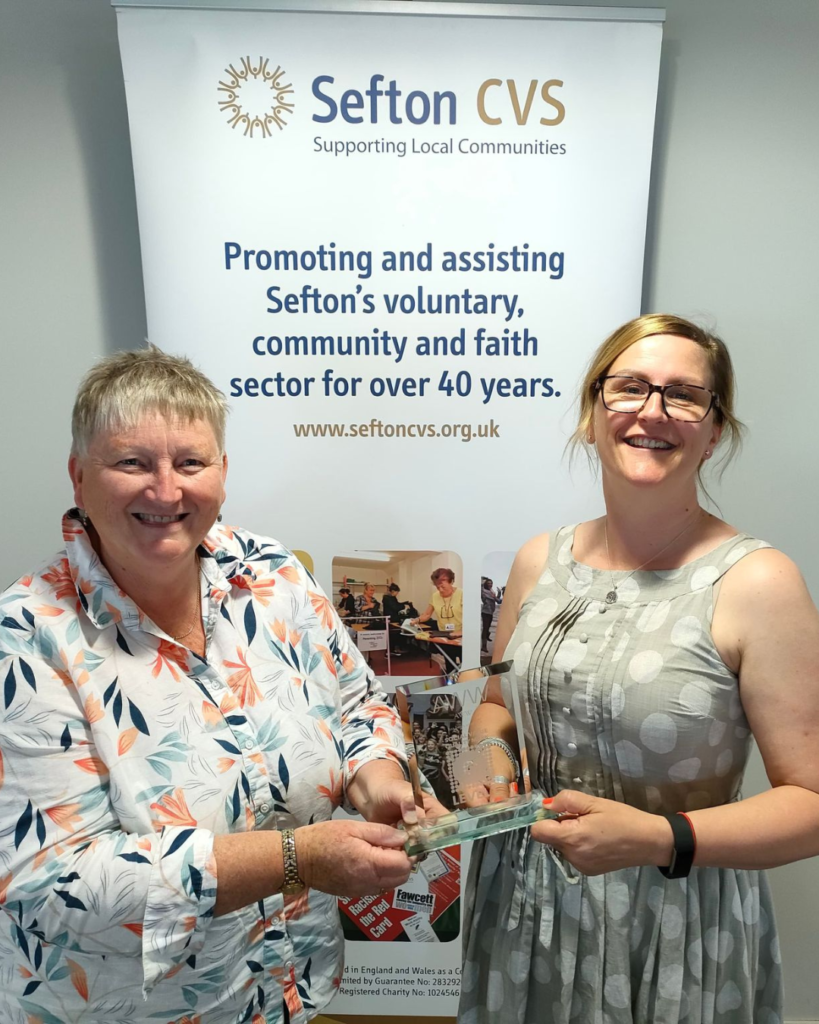 Social Value Quality Mark Managing Director, Richard Dickins, added: "Organisations are increasingly being judged on how they treat their staff, their local community, the environment and society as a whole.
"The Quality Mark aims to recognise this and promote the highest standards in values-led organisations, and this award demonstrates Sefton CVS's outstanding commitment to the creation of social value."
Sefton CVS Chief Executive, Angela White OBE, commented: "It is a huge honour to be the first CVS on Merseyside to have achieved this Social Value Quality Mark.
"We believe that by supporting the VCF sector, and working closely with our other public and private sector partners, we can bring about many positive benefits for the borough.
"These include improving health and wellbeing, promoting inclusion and providing a supportive environment that makes Sefton an even better place for everyone who lives, works or learns here.
"Looking ahead, CVS will be announcing a bursary scheme for Sefton based VCF sector groups who wish achieve the Social Value Quality Mark accreditation. This is thanks to funding from the Cheshire and Merseyside Health and Care Partnership and the offer is a fantastic opportunity to further support VCF sector transformation in the borough."
More information about how VCF sector groups and organisations in Sefton can access the bursary and support to achieve their Level 1 Quality Mark will be announced soon.
You can find out more information about the Social Value Quality Mark accreditation here: www.socialvaluequalitymark.com