The Health & Wellbeing Trainers are part of the Integrated Care Team in South Sefton.
The Integrated Care Team includes Community Matron, District Nurses, Social Workers, Mental Health Team, Occupational Therapy, Medicines Management, Physiotherapist and Community Dietician.
– Are you a South Sefton resident?
– Are you aged 18+?
– Do you live with a long-term health condition?
– Do you have a goal to support you to live more independently?
– Would you like to make a positive change to your overall wellbeing with our tailored support?
If you have answered 'yes' to any of the above questions you could be eligible to access the Health & Wellbeing Trainer Programme.
What do the Health & Wellbeing Trainers provide?
– Support to identify reablement goals, help to make an action plan and provide guidance to achieve the goals.
– Behaviour change and motivational techniques to help you achieve your goals and improve your confidence.
– Signposting to other appropriate services and help to develop social networks.
– Support with advice in a range of areas including finance, accommodation, social inclusion, health, substance misuse and relationships.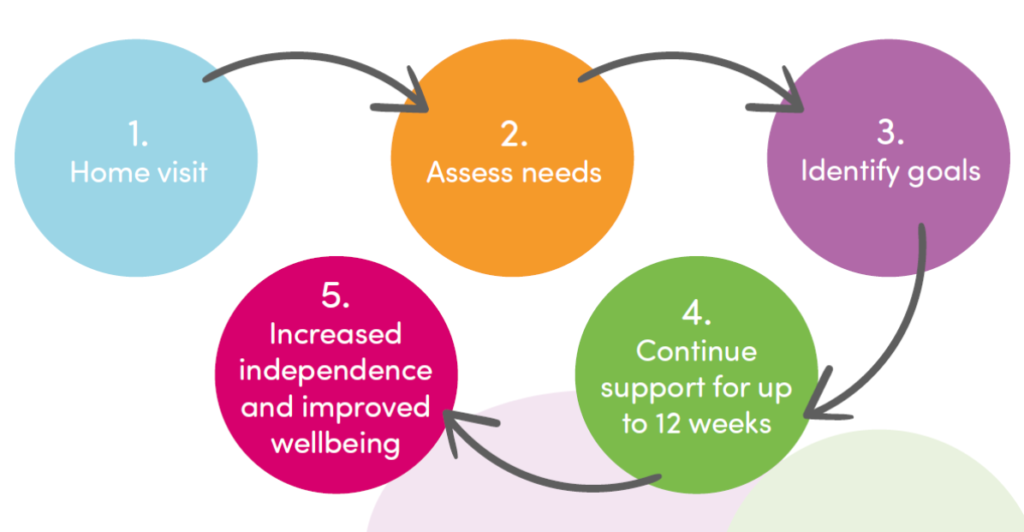 How do I access them?
The Health and Wellbeing Trainer service is directly linked to the Integrated Care Team. If you are a patient of one of the disciplines mentioned above, you can access the Health and Wellbeing Programme via this route, or alternatively via contacting your GP.
What you will do for yourself?
The Health and Wellbeing Trainers supports you to do things for yourself. You will set your own goals (with our support) and work with us towards achieving them. You are key to making those lifestyle changes and improving your own wellbeing.
What happens next?
A Health and Wellbeing Trainer will visit you to further explore what support you would like, what your goals are and to talk you through the service step by step.
Your Health and Wellbeing Trainer will then help you develop your own individualised action plan to help you achieve your goals, providing you with the necessary tools, techniques and contacts to help you along the way.
You will receive weekly contact from your Health and Wellbeing Trainer who will be able to address any concerns you have, and keep you on track.
Please note, this service will not:
– Support people who have not given consent to the referral.
– Support people who are unwilling to help themselves.
– Undertake/deliver any physical activities.
Contact Us
Gina Harvey
Reablement Coordinator
Email: gina.harvey@seftoncvs.org.uk
Phone: 07860 848 345