Official Statement: Her Majesty The Queen 1926-2022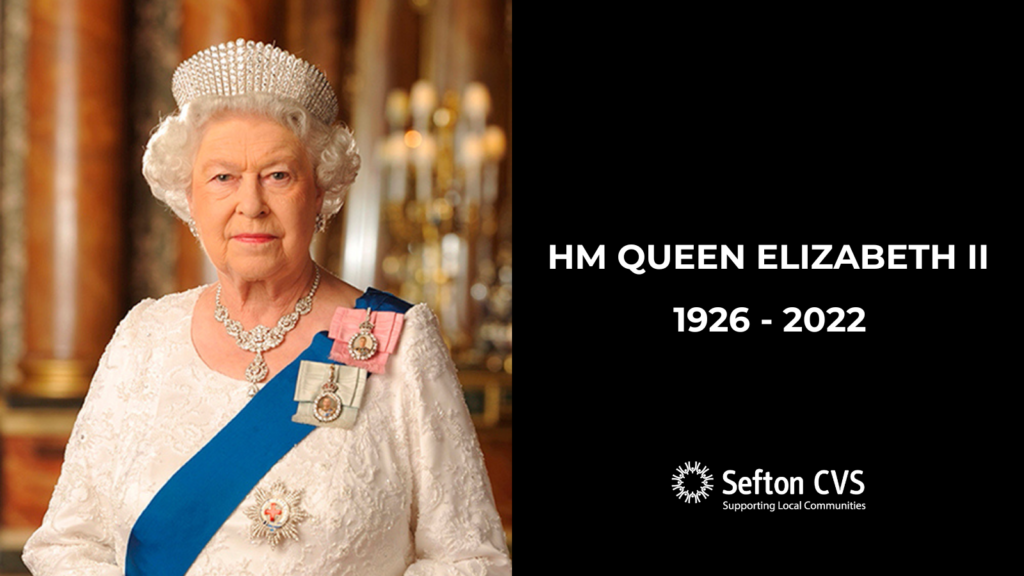 In Memory of Her Majesty Queen Elizabeth II
Official Statement from Sefton CVS
Chief Executive of Sefton CVS, Angela White, OBE said:

"It is with great sadness that we hear of the death of Her Majesty The Queen. We remember her remarkable and outstanding service to our nation and commonwealth as our sovereign, undertaken with such grace, dedication and humility. United now with her beloved husband, may she rest in peace.

We extend our sincere condolences and thoughts to King Charles III and the Royal Family."
---
Official Statement from Sefton Council:
Sefton Council has expressed great sadness following the death of Her Majesty the Queen.

Mayor of Sefton, Cllr Clare Carragher said:
"It is with great sadness that we have announced the death of Her Majesty the Queen.
"There will be an official ten days of mourning and during this period I am sure most of us will reflect on her wonderful life and think of any lasting memories of her majesty who was a great monarch and highly regarded across the world.
"While we all deal with loss differently, we can remember the Queen fondly and look back at the many occasions she visited our wonderful borough and touched the lives of so many.
"She officially made numerous visits to Sefton including a stop off in Bootle and Crosby in October 1954 and a tour of Lancashire which included a motor cavalcade driving through Southport in April, 1955.
"The Grand National at Aintree was attended by the Queen in March, 1956 and it wasn't until December, 1962 that the Monarch returned to Bootle.
"Further visits to Bootle were recorded in June 1977 as part of her Silver Jubilee Tour and also in May 1993 when the Queen visited Bootle Town Hall commemorating the 50th anniversary of the Battle of the Atlantic.
"Prior to that Her Majesty the Queen spent time in Southport in June, 1985 which included a visit to Altcar Training Camp.
"I'm sure so many people will remember these visits to Sefton with great fondness and contentment."

Books of condolence will be available at Bootle Town Hall and the Atkinson, Southport for people to sign and remember the monarch who sadly died on 8th September. Books of Condolence will be collated and archived.
An online book of remembrance has also been made available by Buckingham Palace and will soon be available via the Sefton Council website www.sefton.gov.uk
For Sefton residents who cannot access the online book of remembrance, printed Condolence Cards will be available from all Sefton Libraries and Family Wellbeing Centres. These can be filled in by hand and either returned to one of the libraries or family wellbeing centres or can be posted back to either Southport or Bootle Town Halls. These cards will be collated and stored in Council archives.
As a mark of respect, all flags at Council buildings and assets across the borough will be lowered to half-mast as Sefton pays tribute to Her Majesty the Queen.
Areas outside Bootle Town Hall and the Princess Diana Memorial Gardens on Lord Street, Southport have been designated as places where residents can leave floral tributes in memory of Her Majesty the Queen.
Both Bootle Town Hall and The Atkinson in Southport will be open from Friday 9th September between 09:00 and 17:00 for residents and visitors to sign the books of condolence. In the event of large crowds forming, a queuing system will be in place at both buildings.
During the mourning period and state funeral, some of the Mayor of Sefton's engagements may be cancelled as a mark of respect. Other engagements during this period may begin with a period of silence to honour the Queen's passing.
Floral tributes at both Southport and Bootle will remain in place until after the state funeral. These will then be sensitively collected and disposed of in an appropriate fashion.
For more information visit sefton.gov.uk or mysefton.co.uk.