Household and Non-Domestic Energy Support Schemes – Update 17 October 2022
Below is a briefing provided by NAVCA following announcements by Chancellor of the Exchequer today (17 October 2022).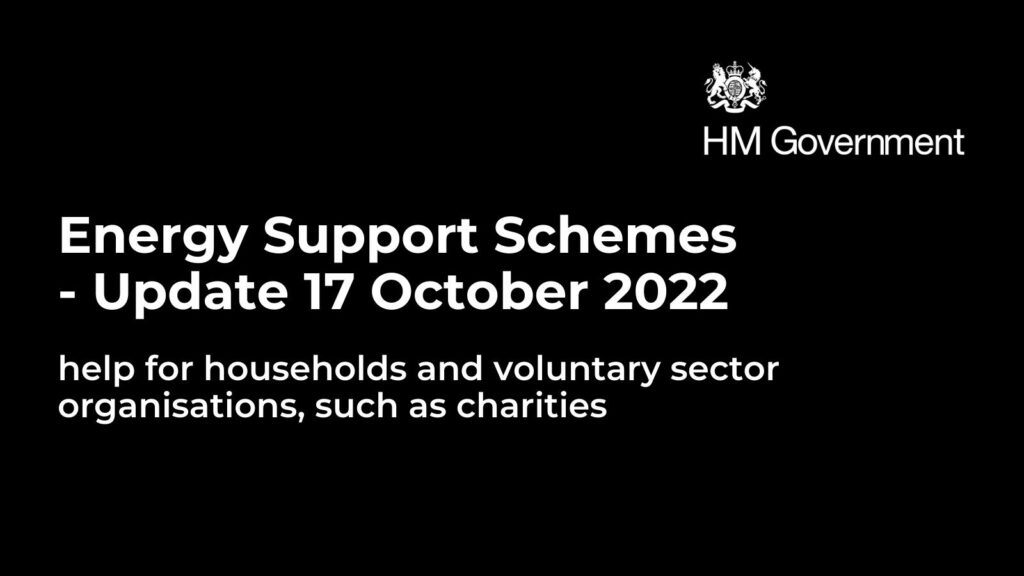 Key Points:
The Energy Price Guarantee for all domestic customers will now run only for six months: 1 October 2022 – 31 March 2023.
A review of the scheme will be led by the Treasury – further details to follow.
Energy Bill Relief Scheme for non-domestic customers runs from 1 October 2022 – 31 March 2023. BEIS Department is currently running a survey on the effectiveness of the scheme. See below.
Basic rate tax will remain at 20%. The reversal of the rise in National Insurance contributions will still go ahead. Other measures on cutting dividend tax, IR35 rules on off pay-roll working, and tax free shopping for tourists have been reversed. Alcohol duty will go up on 1 February 2023 but the removal of the cap on bankers' bonuses remains.
No announcement on the amount benefits will be increased by. No date yet advertised for this, it may be 31 October or later in November.
---
Energy Bill Relief Scheme
The Energy Bill Relief Scheme: help for businesses and other non-domestic customers applies for six months from 1 October 2022 to 31 March 2023.
This is for businesses, schools, hospitals, care homes, local authorities, community organisations and charities. This creates a baseline price for commercial gas and electricity supply, which will be lower than the expected wholesale prices this winter. This is called the 'government supported price'.
To qualify an organisation must be:
on an existing fixed price contract that was agreed on or after 1 April 2022 and is more than the baseline price per mega Watt hour.
OR be in the process of signing a new fixed price contract
OR on a deemed / out of contract or variable tariffs [i.e. you are not on an agreed price contract]
OR on flexible purchase or similar contracts.
If a fixed price contract was signed BEFORE 1 April 2022, the organisation is not eligible as it is suggested that the prices charged then were not excessive.
For all non-domestic energy users in Great Britain base line price is:
£211 per megawatt hour (MWh) for electricity or around 21.1p / kWh
£75 per MWh for gas or around 7.5p /kWh

The scheme will be applied through suppliers, who will be paid directly by government. Reductions for VCS organisations will come through bills and will not need to be applied for. For variable, deemed and all other contracts, the discount will reflect the difference between the government supported price and relevant wholesale price, but be subject to a 'maximum discount' of £345/MWh for electricity and £91/MWh for gas. Any new contracts signed from 1 October onwards, will reflect this baseline price per MWh – for a six month period.
If an organisation gets its energy through a landlord / heat network / energy service company or for park home residents: then Government expects the benefits to be passed on to the end user: 'in a reasonable and proportionate way.' This requirement only for 'reasonable and proportionate' passing on of support payments will need careful monitoring.
Suppliers should contact non-domestic customers over the next few weeks to implement the scheme. Government is advising that particularly smaller organisations / businesses contact their supplier sooner rather than later to ensure they are getting the most benefit from the scheme.
Government has also suggested that organisations and businesses explore if they are eligible for local schemes run by local authorities or growth hubs to improve the energy performance of buildings and processes to lower bills https://www.gov.uk/business-finance-support
Energy Price Guarantee for Households
The Energy Price Guarantee for all domestic customers will now run only for six months: 1 October 2022 – 31 March 2023.
The unit price of gas and electricity per kWh is capped at 34.0p/kWh for electricity and 10.3p/kWh for gas, inclusive of VAT, from 1 October so that the bill for a typical household should not exceed £2500. This will apply to those on standard meters, paying by direct debit. Those on fixed price contracts that are higher than this will receive a discount to match these costs.
Households on pre-payment meters will receive credit automatically, the discount will be applied automatically by the supplier. No vouchers are needed for this. The differential in unit cost compared to standard meters will remain though.
It is important that consumers understand that the price per unit used has been capped not the total bill as the messaging from HMG has been confusing. The Treasury will lead a review of the Energy Price Guarantee to target future support after the initial six month period. Currently [1pm on Monday 17 October 2022] there is no official indication of what the review will cover or how it will be carried out. In his statement the Chancellor said: 'the new approach will better incentivise energy efficiency.' Commentators think that this could indicate a 'German style subsidy only for a proportion of the bill, and full prices for the rest, incentivizing lower usage.' The consequences are that currently there is no idea how many households will face having to pay full market price for their energy after 31 March 2023. More information on the review as soon as it is available. This inevitably creates significant uncertainty for many households and will create a cliff edge as support is withdrawn.
Review of Scheme
Government has started a survey to contribute to the review of the Energy Bill Relief Scheme. It is open until 11.55pm on Monday 24 October 2022.
It will focus on the effectiveness of the scheme, identifying the most vulnerable non-domestic customers and how the government will continue assisting them with energy costs. It is vitally important that NAVCA members and local VCSE organisations respond to this survey as soon as possible.
Full guidance on completing the survey is available: files.constantcontact.com/ca3da02a001/019645a1-38d4-493e-ad7f-61480de0d58d.pdf