Our Voices: Launching the Historic Townships Exhibition


On Friday 7 October 2022, a year's worth of hard work came together when we launched the community-led touring Historic Townships exhibition at Crosby Library. Our Volunteer Researchers were able to see the heritage displays they have been creating for the first time as part of a larger collection of 9 free-standing roller banners. The banners focus on different local areas and include old photographs, maps, newspaper cuttings and QR codes to scan to listen to local memories (there's an alternative CD collection to play too). People across the borough can learn more about their local area and share their voice in over 10 confirmed venues with more to come.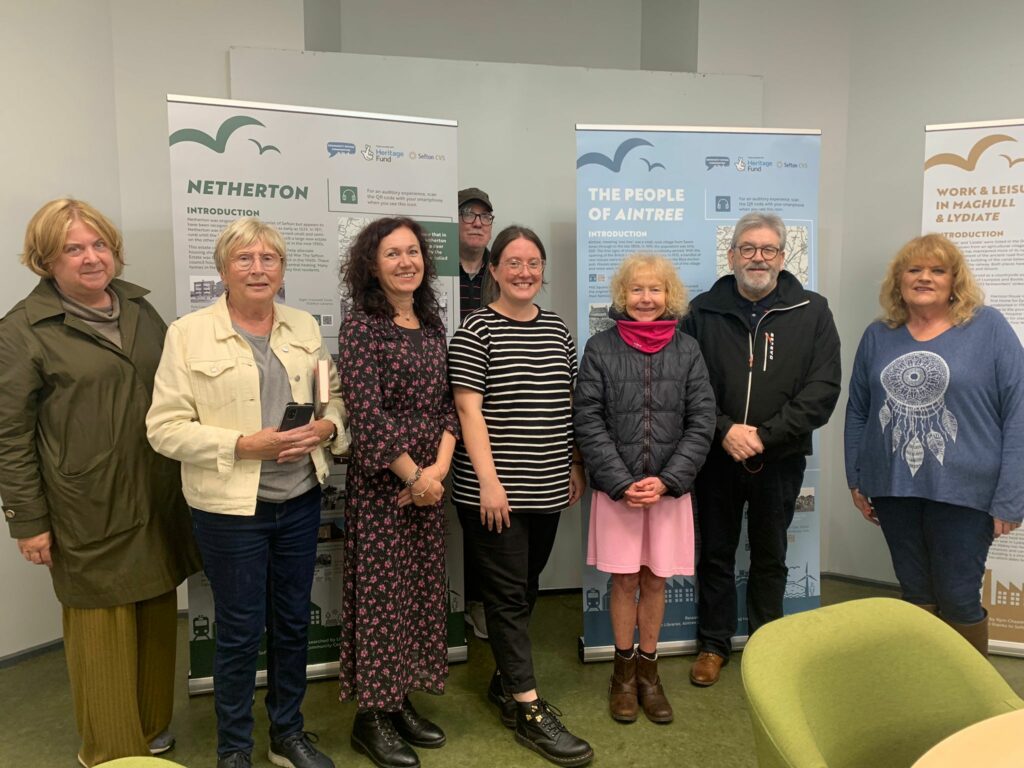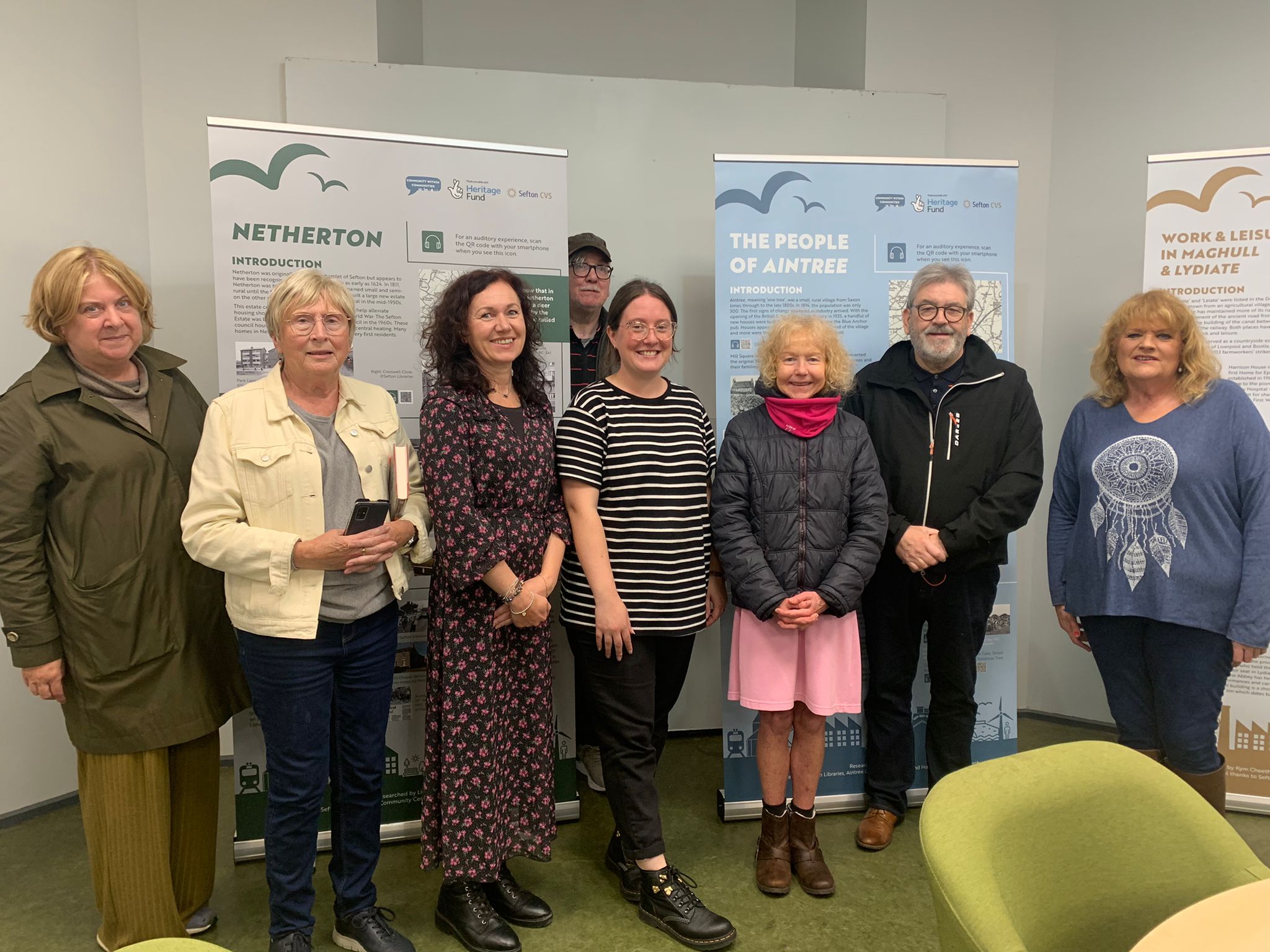 We worked closely with 21 long-term volunteers and many more supporters to record 39 oral history interviews which share beautifully rich stories that capture what Sefton is all about. We have had people sending us their written memories, putting us in touch with others, sharing old photographs, writing poetry and so much more. From memories of using air raid shelters in Seaforth during the Second World War and experiences of the 1997 bomb scare at the Grand National in Aintree to watching Harvey Smith show jump at the Formby Show, we have been able to showcase the uniqueness of 9 local areas whilst drawing out the connections that thread the borough together.
The coast, the development of the canal and railway, and local traditions featured heavily in many of our sessions with volunteers where we uncovered fascinating historical facts and stories. Did you know, for example, that the Bootle JOC football league was founded in 1921 as part of the Juvenile Organisation Committees set up after the First World War? What about the history of Maghull Homes as the first provision of residential care for people with epilepsy in England? Keep a look out for dates so you can find out even more thanks to our wonderful volunteers.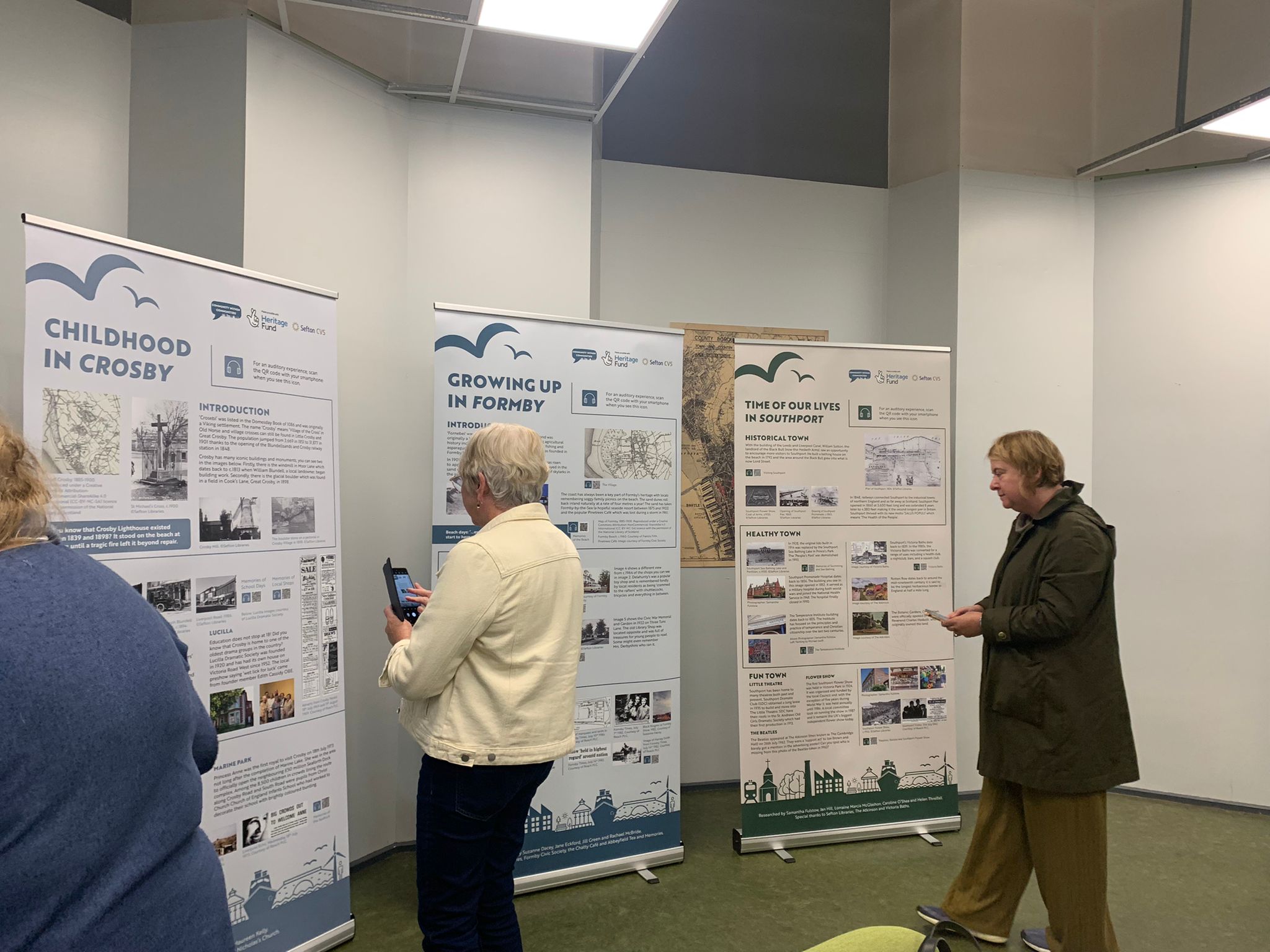 On launch day, Arthur Bowling, who has been involved in the research for Bootle, Waterloo and Seaforth was inspired to write a poem which is a perfect way to end this post.
Heritage Fund – Fun 4 All

Here we are vox populi personified,
A life in a row of historical banners.
Be fair, give it a chance, mind your manners.
Sausages, matches, jockeys and greyhounds,
Memories for one and all.

Slices of life and society, feel the call,
Have a sense of belonging and a sense of pride.
Smile at life, in a new light, don't hide.
We are Sefton people, we are proud.
This is our achievement, say it loud.
Click here to view the dates of the exhibitions at Libraries across Sefton.
For more information about the project please visit: seftoncvs.org.uk/project/heritageproject/