Sefton Council warns loan sharks circling as cost of living crisis bites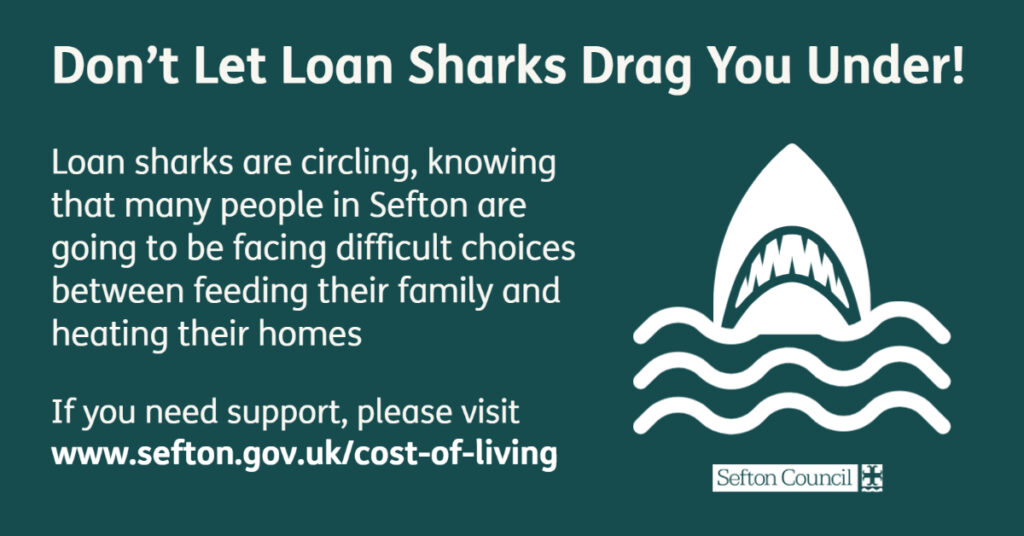 Sefton Council is warning people not to turn to loan sharks as the national Cost of Living Crisis takes hold.
Circling
Loan sharks are circling, knowing that many local people are going to be facing difficult choices between feeding their family and heating their home, and may be thinking of turning to them.
Often, they use social media channels such as Facebook, Instagram and Snapchat to target their victims. To start with their offers can look like a short-term fix but very quickly rising interest rates mean rocketing payments, with people owing many many times what they first borrowed.
And failure to pay can lead to threats and violence.
Rather than turning to loan sharks, Sefton Council is urging people to visit www.sefton.gov.uk/cost-of-living where there are links to a range of advice and support including Debt Advice.
There is also information about the Council's Emergency Limited Assistance Scheme which can provide a one-off payment to help local residents experiencing severe hardship, a disaster or emergency.
People can also visit The Sefton Support Hub, a digital One Stop Shop for residents to find help, advice and guidance, as well as financial and social support, at www.sefton.gov.uk/seftonsupporthub.
Free computer and Wi-Fi access
People who do not have access to the Internet or a PC or smartphone can get online at their local Sefton Council Library where there is free computer and Wi-Fi access.
And, because there are those who do not have easy access to digital information, the Council has also produced and distributed an easy-print factsheet that can be downloaded from www.sefton.gov.uk/factsheet.
The Council's Contact Centre can also be contacted on 0345 140 0845 from Monday to Friday, 8am to 6pm.
Most vulnerable
Cllr Trish Hardy, Sefton Council's Cabinet Member for Communities and Housing, said: "Sadly, loan sharks step up their activities at times like this and target the most vulnerable.
"To people struggling with the current cost of surviving crisis they can look like a way out, but it is only a very temporary solution.
"However, anyone taking out a loan with one of these heartless predators nearly always ends up in a much worse situation owing many times what they initially borrowed and potentially facing threats of violence to them and their family."
"I would urge anyone struggling to visit www.sefton.gov.uk/cost-of-living or www.sefton.gov.uk/seftonsupporthub or to phone our Contact Centre on 0345 140 0845."
Report it
Anyone who thinks they have been targeted by a loan shark can report it in confidence to an Illegal Money Lending Team by:
Updates can be found from Stop Loan Sharks England on Twitter and on Facebook.
And there is also a Stop Loan Sharks page on the Sefton Directory.