Living Well Sefton Launches Round 11 of their Community Resilience Grant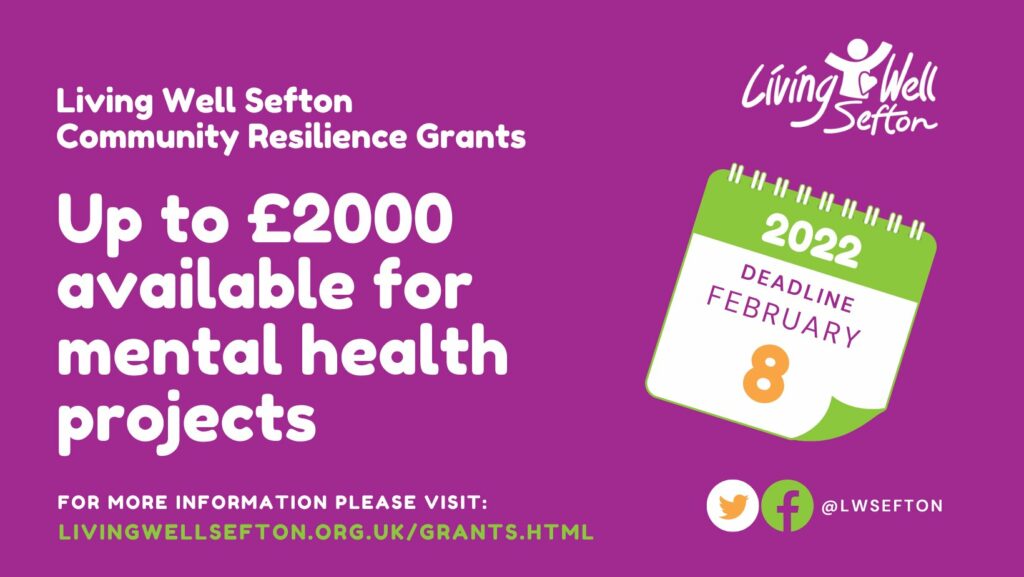 As part of its offer, Living Well Sefton manages the Community Resilience Grant (CRG) fund which is open to local community groups and individuals for projects aimed at supporting people to improve their health and wellbeing.
More than 100 projects have so far been funded through the grant fund addressing themes such as:
• Reducing social isolation for older people
• Increasing people's confidence and self-esteem
• Improving people's fitness
• Helping to build awareness of healthy cooking and nutrition
• Encouraging the whole family in developing activities together
Round 11
Living Well Sefton's Community Resilience Grant round 11 is now accepting applications. The theme of this round is Mental Health.
Sefton-based voluntary, community and faith (VCF) sector groups are invited to apply for up to £2,000 to support local community health and wellbeing projects and activities that aim to address low level Mental Health within the borough.
Projects do not necessarily have to be new for this round but we are looking to fund projects aiming to support Mental Health.
Previous grant recipients are encouraged to reapply as well as first time applicants and those that have previously been unsuccessful.
Grant deadline: Wednesday 8th February