Get 2023 off to the best start with a free health check and COVID-19 jab on the 'Living Well' bus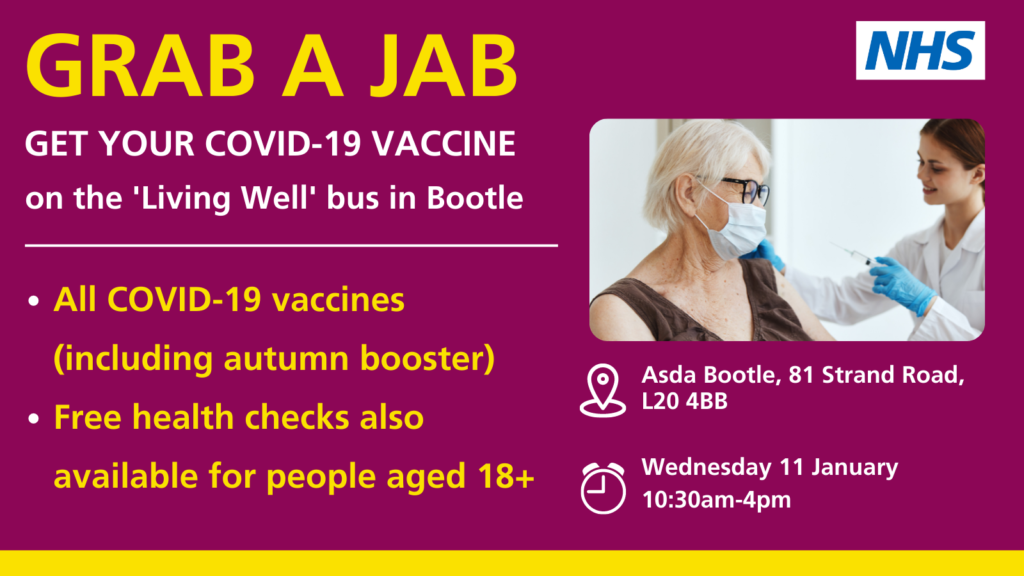 The 'Living Well' bus will return to Asda Bootle on Wednesday 11 January to offer Sefton residents all COVID-19 vaccines, including first, second, booster and seasonal (autumn booster) and free health checks.
The bus will be parked in Asda car park from 10:30am-4pm and residents can come along throughout the day with no need to book.
Residents will be able to get up to date with any COVID-19 vaccines they may have missed, including first, second or booster doses and the seasonal (autumn booster).
Those who are eligible to receive the autumn booster include people aged 50 and over, frontline health and social care workers, and those deemed at risk because, for example, they have either a weakened immune system, a learning disability or are pregnant.
Free holistic health checks will also be available for residents aged 18 and over if time and capacity allows, which include a pulse check and blood pressure check, cholesterol and blood glucose check and a BMI check.
Jan Leonard, primary care lead for Sefton at NHS Cheshire and Merseyside said: "A new year is a great time to take steps to boost your health and wellbeing, and we're reminding residents that COVID-19 is still circulating and the best way to protect yourself and your loved ones is to get up to date with your jabs.
"If you are eligible for a seasonal (autumn) booster and haven't had a chance to go for it yet, we would strongly encourage you to take up the offer.
It's also a brilliant opportunity to have a health check which will help to find any hidden health problems and tackle them early on."
You can find out more about the COVID-19 vaccine, who is eligible, and how to book an appointment online or find other walk-in vaccination sites on the NHS website: www.nhs.uk/covid-vaccination.