Lung Health Check roadshow comes to Litherland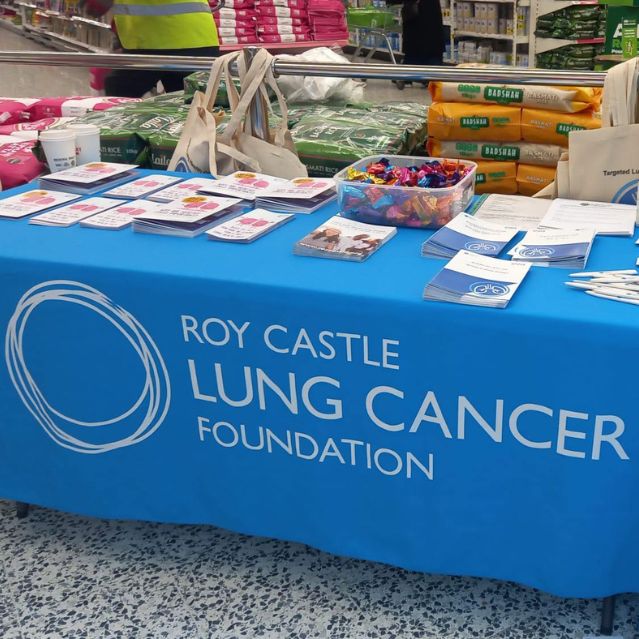 Residents across south Sefton are being invited for a free lung check as part of an NHS targeted lung health check programme and a drop-in event aimed at raising awareness of the programme and the symptoms of lung cancer will be held in the Tesco superstore on Hawthorne Road on Friday 24 February, 10am-4pm.
Targeted Lung Health Checks (TLHC) are described as a free 'MOT for your lungs' and are helping the NHS to spot lung cancer and other issues earlier when they are easier to treat.
A team of trained community engagement and patient advocates from the Roy Castle Lung Cancer Foundation will be on hand to chat to people at the drop-in event and will be bringing their 'mega lungs' with them to help show the importance of maintaining healthy lungs and the signs and symptoms to look out for.
Hundreds of eligible people in south Sefton are already taking part in the programme, with patients in other areas including Litherland due to receive their letters from the NHS inviting them to make an appointment in the coming weeks and months.
The NHS Lung Health Check takes place in two stages. Once you accept the offer to take part, you will receive a telephone call and a specially trained healthcare professional will ask you a series of questions. This will take approximately 30 minutes. As part of the check, some people may be offered a low-dose CT scan at a later date, if any risks have been identified.
Dr Debbie Harvey, GP and clinical lead for the Targeted Lung Health Check programme in south Sefton said: "I am pleased we will soon be inviting eligible people to take part in the Targeted Lung Health Checks in Litherland. Many people in other parts of south Sefton have been given valuable peace of mind by taking part in the programme, and where we have found potential health issues it is helping us to treat them sooner. Early cancer diagnosis saves lives, so if you are contacted by a member of the team offering you a Lung Health Check, please say yes."
Paula Chadwick, chief executive of Roy Castle Lung Cancer Foundation said: "We encourage anyone who has received an invitation for a lung health check or just wants to improve their lung health, to pop down to the event at Tesco, Litherland on Friday 24 February. We appreciate some people can feel a little nervous about attending an appointment so if you have any questions or concerns, the team are here to answer them.
"It is so important we do everything we can to look after our lungs and these simple check-ups are a brilliant way to make sure everything is ok. And if there is anything wrong, we are catching it at the earliest opportunity."
The main symptoms of lung cancer include a cough that doesn't go away after three weeks, chest infections that keep coming back, coughing up blood, an ache or pain when breathing or coughing, persistent breathlessness, persistent tiredness or lack of energy and/or loss of appetite or unexplained weight loss.
Lung cancer can often be caught too late as there are rarely symptoms at the earlier stages. The programme is designed to check those most at risk of developing lung cancer in order to spot signs earlier, at the stage when it's much more treatable and ultimately saving more lives.
More information on the Targeted Lung Health Check programme is available at: www.lhch.nhs.uk/lung-health-check/lung-health-check-south-sefton
The Targeted Lung Health Check roadshow will be at Tesco superstore on Hawthorne Road, Litherland, Bootle, Liverpool L21 8NZ on Friday 24 February between 10am and 4pm.