Citizens 4 Good Awards Celebrating Community Heroes held in Maghull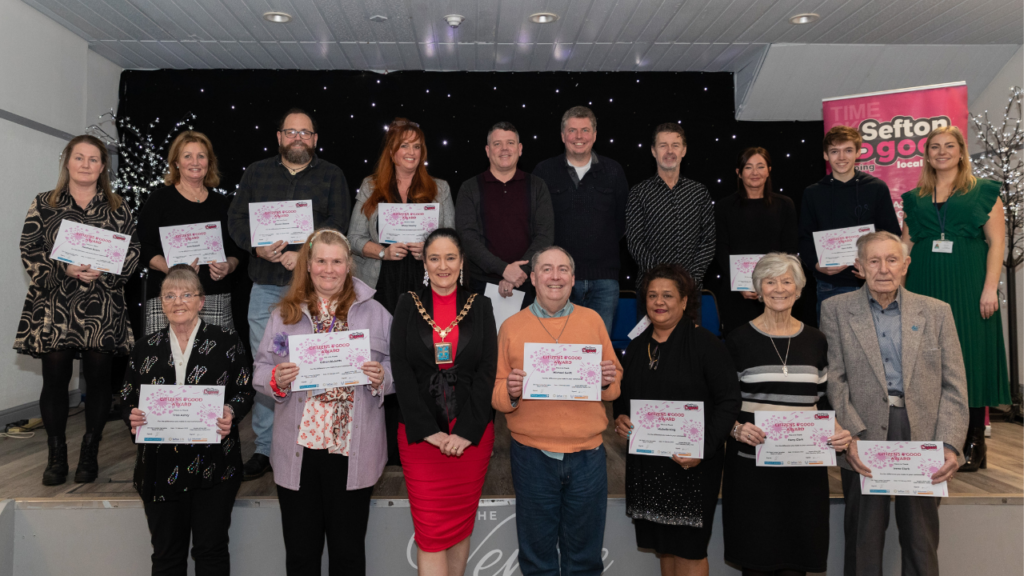 A scheme which honours Sefton residents who make a difference to life in their local communities and beyond has honoured its latest recipients. This included a Scout leader, a group who have taken aid to Ukraine, community volunteers, two people who saved a person's life, community group organisers, a charity founder and a couple who have raised thousands for the Alzheimer's society.
Citizens 4 Good is a joint initiative between Sefton CVS and the Mayor of Sefton's Office and was established in 2017. The ceremony was held at Maghull Town Hall on Wednesday 15th February and was attended by 16 community heroes. Accompanied by their family members and the people who nominated them for the award, they each received a certificate and thanks from the Mayor of Sefton, Councillor Clare Carragher.
"The generosity, kindness and dedication of everyone at the Citizens 4 Good awards amazes me" said the Mayor of Sefton, Councillor Clare Carragher.
"I want to extend a special thank you to everyone who has been nominated. They have gone above and beyond and I am delighted we can recognise and thank them for their hard work".
"These awards highlight the difference local people can make in Sefton," said Lauren Jones, Citizens 4 Good organiser. "We are honoured that Sefton CVS, together with the Mayor of Sefton's office, can shine the spotlight on the good work that individuals do in our community."
List of Citizens 4 Good nominees for February 2023:
Triss Ashry – Triss is a core member of her community and surrounding area she lives in. Not only does she volunteer every weekday at the Feelgood Factory she also supports her vulnerable neighbours and refugees by going to the shop for newspapers and taking them to appointments.
Simon Reeve – Simon has a family of 3, works full time as a teacher, is a football coach for a local team and finds time to organise a group of 40 6-8-year-old Beavers every Wednesday along with weekend activities too! Despite only being 6-8 years of age, the Beavers have so many opportunities to attend trips, events, sleepovers and camp, none of which is possible without Simon and the other leaders.
Victoria Jones and Sam Kelly -. Vicky is the manager at MeCycle, a coffee shop in Ainsdale run by Autism Initiatives. Sam, who was 16 at the time, and has autism, was working on a placement in the shop when he noticed an elderly customer bent over his coffee and looking "strange". Sam alerted Vicky and ran over to get a defibrillator from the train station. Vicky, Sam and another member of staff worked with the defibrillator to resuscitate him until an ambulance arrived and took him to hospital. The customer survived, and has been back to thank Vicky and Sam – and he is a regular customer once more. The type of heart attack he suffered normally has a very poor survival rate, so Vicky and Sam definitely saved his life.
Gillian Ricketts – Gillian has been treasurer for Stepping Stones for several years. A kind and giving person, Gillian has made great friends at the group and provided support to the committee, going above and beyond her treasurer role. Without her hard work, the group wouldn't be where it is today.
Michelle King – Michelle runs Active Minds Day Centre in Crosby. A "home away from home", Active Minds provides a place for older people who have early onset Dementia or those feeling socially isolated, to go and take part in a wide variety of activities and socialise.
Harry and Irene Clark – Harry and Irene are a force to be reckoned with. They are both over 80 years old and constantly look out for all their residents on the road where they live. Harry and Irene also live with Irene's dementia diagnosis, and this spurs them on to help people who have also been diagnosed, encouraging them to join support groups and advising them. They have raised thousands of pounds, with Irene knitting beautiful items to raffle for The Alzheimer's Society.
Heather Evans and June Russell – motivated by the loss of Heather's daughter Halle, Heather and June set up and run The Halle O'Brien CIC from Ford Lane Community Centre. The organisation delivers extracurricular activities to local children who wouldn't be able to take part due to families' financial restraint along with providing a safe and welcoming space for people to come along to.
Michael Swift -Michael set up Stepping Stones, a weekly club held at Temperance Hall in Southport, where people with a disability can gather, talk, make friends socialise, learn new skills and gain confidence.
Sheryl Dooley – Sheryl has been instrumental in setting up The Smith Brothers Foundation. Sheryl does not seem to stop, she does so much for her local community in Maghull including running: a community group from Maghull Town Hall, a Memory café, a food scheme for families in need, fundraising initiatives, a weekly community radio show and more!
Simon Davies, Peter O'Brien, David Jones, Colin Smith and Andy Geoghan – Simon is a local business owner running Worldclass Travelling, an airport and limo service based in Formby. The team packed Simon's four mini-buses full of medical supplies and humanitarian aid and drove over 1450 miles to Lviv in western Ukraine. Not only that but the group has also collected refugees with paperwork and delivered them to their new place to live at drop off points throughout Europe.
The team have raised over £44,000 enabling them to do six trips to Ukraine taking 20 tons of medical supplies and humanitarian aid. They have returned with 75 displaced women and children refugees plus a Chihuahua!
For more information about future sponsorship opportunities or if you would like to nominate someone for Citizens 4 Good, please ring 07860 846 605 or email info@sefton4good.org.uk.