More chances to get a free health check and COVID-19 vaccine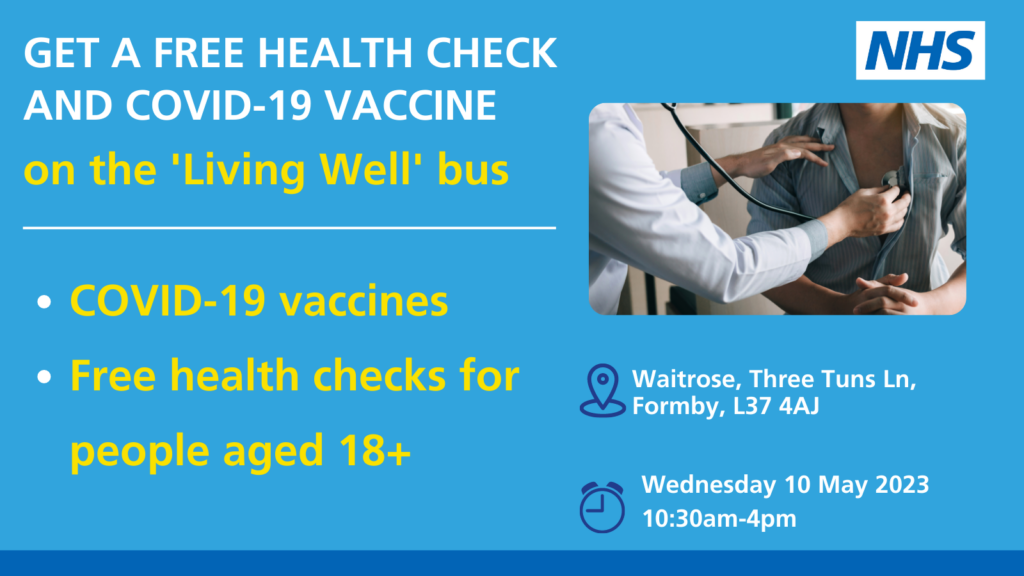 The 'Living Well' bus service is returning to Sefton this month to offer residents a free health check and the opportunity to catch up on first and second COVID-19 vaccines, as well as third primary doses for those who are immunosuppressed.
Operating as a drop-in service, the bus offers a range of physical health checks, COVID-19 vaccinations, and referrals to talking therapies.
The bus will be at the following locations from 10:30am-4pm, with no appointment needed:
Wednesday 10 May – Waitrose Formby, Three Tuns Lane, Formby, L37 4AJ
The service, which is delivered by the Cheshire and Wirral Partnership NHS Foundation Trust, was launched in June 2022 to offer a consistent health and care approach across communities across Cheshire and Merseyside. All activity is recorded and shared with your GP, ensuring ongoing understanding and support for your health is in place.
Find out more about the service on the Cheshire and Wirral Partnership NHS Foundation Trust website: https://www.cwp.nhs.uk/livingwellservice
You can find out more about the COVID-19 vaccine, who is eligible, and to book an appointment online or find other walk-in vaccination sites on the NHS website: www.nhs.uk/covid-vaccination