UKSPF – Digital Connectivity for Community Facilities Grant Round 2 Now Open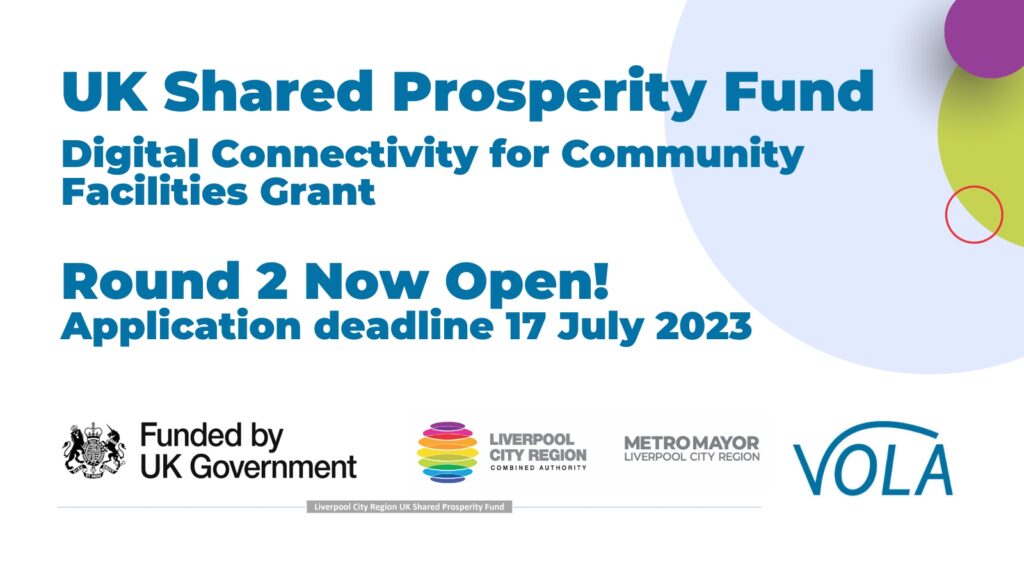 UKSPF – Digital Connectivity for Community Facilities: Introduction
The Liverpool City Region Combined Authority's (LCRCA's) local investment plan for the UK Shared Prosperity Fund (UKSPF) programme – the UK's successor to EU Structural funds – includes a grants programme focussed on Digital Connectivity for Community Facilities. VOLA has been appointed by the LCRCA to manage this programme.
Earlier in the year, Round 1 of the fund awarded £300,000 to 46 grass-roots, not-for-profit community organisations across the Liverpool City Region. This was the first of 5 planned funding rounds to take place in 2023 and 2024.
Round 2 Now Open
Round 2 of the fund is open for applications from Monday 19 June 2023, with £361,000 available across the Liverpool City Region (see FAQs or briefing slides for borough allocations).
Grants of between £2,500 and £10,000 are available. Please do not apply for more than the maximum, or less than the minimum.
Application deadline = Monday 17 July, 5pm, with a view to awarding grants to successful applicants in September 2023. See process timescales in briefing slides.
Completed applications, plus all required supporting documentation must be emailed to: ukspfgrants@volamerseyside.org.uk by the stated deadlines. Late applications will not be accepted.
Application and guidance documents (please read and digest all):
This is a competitive process, with awards made on merit to VCFSE organisations based in all six boroughs of the city region – Halton, Knowsley, Liverpool, Sefton, St Helens and Wirral.
Briefing sessions – June 2023
Slides and recordings of the recent briefing sessions can be downloaded below. These will be particularly useful to interested applicants that were unable to attend the sessions.
General info briefing session:
The general briefings covered background and purpose of the fund; applicant eligibility criteria; eligible and ineligible expenditure; important policies and other things you need to have in place; and most importantly, guidance and tips on putting together a good application.
Technical hints and tips briefing session: