Evaluation Services for new Heritage Project – Invitation to Quote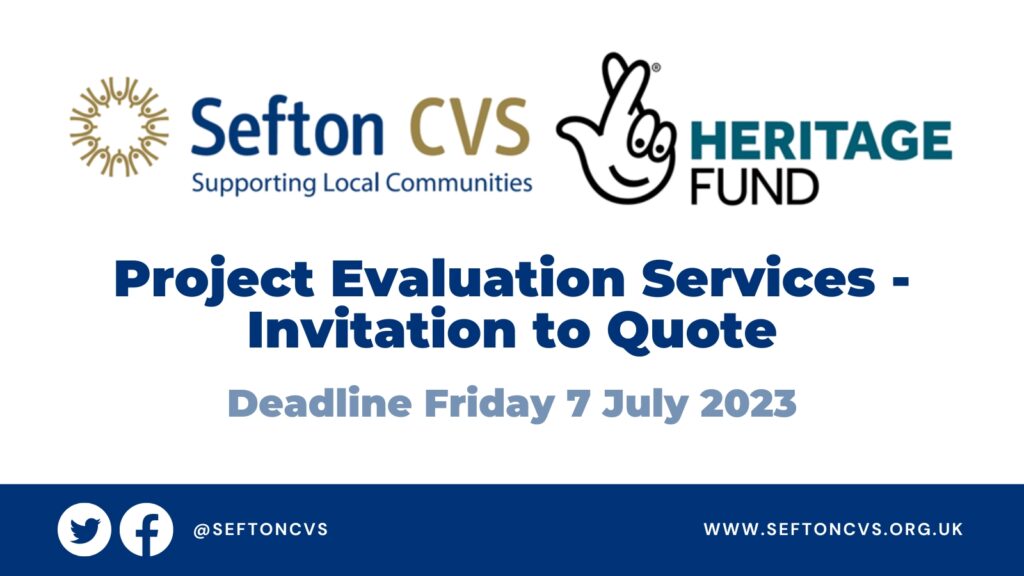 Sefton CVS invites suitably qualified and experienced applicants to provide a quotation for professional evaluation services to conduct a project evaluation for our new Project 'Hearts of Gold – Sefton At 50'. 
This two year project (June 2023-25) will engage and involve communities to celebrate Sefton's people and places, with the borough's golden anniversary (1974-2024) the focus for an activity programme particularly raising social and cultural heritage awareness.
The successful applicant will be required to conduct independent research to provide a summative report for the entire project, leading to evidenced recommendations and conclusions that provide a springboard for the development of future delivery plans and potential new projects. This will include attending periodic meetings with Sefton CVS, both at its premises and those of its project partners. Where practical, online meetings will be used to reduce environmental impact and enable cost efficiencies.
An initial progress report will be required (June 2024) with a second report (April 2025) preceding the Final Evaluation report (June 2025).
Full details of services required and the application process are included in the Invitation to Quote specification available for download below…
Applications must be in English. The entire application, including any supporting documentation, should be e-mailed no later than 7 July to: groupdevelopment@seftoncvs.org.uk.
If you have a specific question relating to this Invitation to Quote not answered in this specification document, please email groupdevelopment@seftoncvs.org.uk before 29 June. We will endeavour to respond to queries within 2 working days.