Presentation on Sefton's Local System Partnership at the NHS ConfedExpo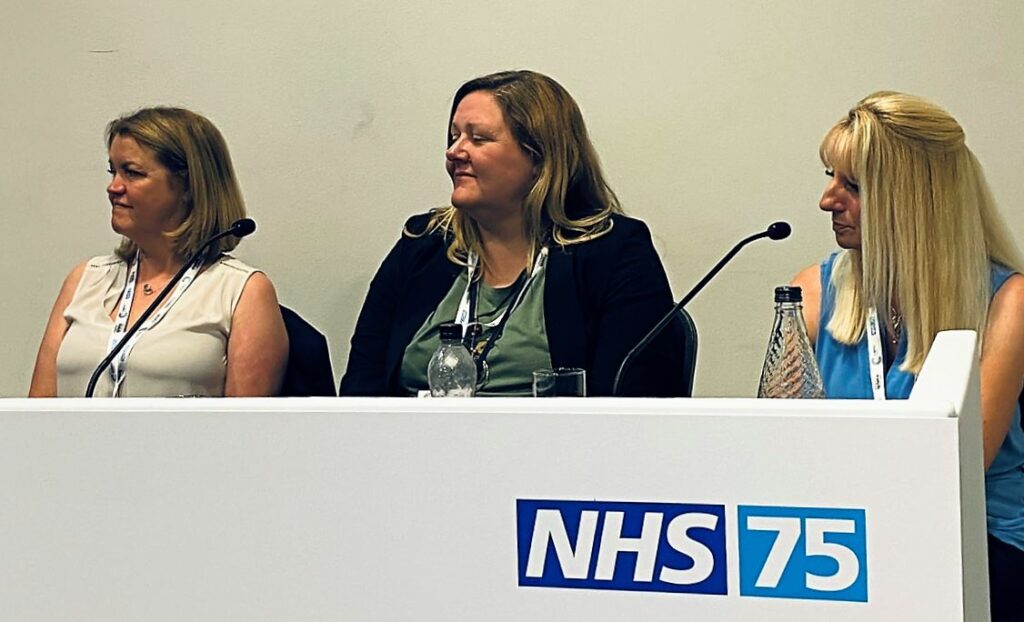 'A brilliant example of local partnership working that is really helping to join up care for people', is how the pioneering work of Sefton was described.
At last week's NHS ConfedExpo in Manchester, Adele Thompson from Sefton CVS, Vicky Keeley from Sefton Carers Centre and Sharon Dooner from Cheshire and Merseyside Integrated Care Board showcased their innovative approach to community partnership.
Better health from the bottom up
Entitled 'Creating better health from the bottom up' their session focused on how local partners are working together to co-design a holistic discharge service that reduces pressure on hospital admissions, supports unpaid carers and enables the patient in the centre of their support.
The session was chaired by Keymn Whervin, Lived Experience Manager at National Voices, who has been an unpaid carer herself. Keymn reflected that 'I can't get Sefton out of my head; I am so impressed with the work you do and will be promoting your approach. If I had this service 23 years ago, I would have got back 22 of those years.'
The session was supported by NHS England, who are planning to write up a case study to support the key learning from this approach be shared across the country.
Human element
In conversation with the Sefton team after the event, Cicely Ryder-Belson, Programme Manager for Partnership Development in the System Transformation team at NHS England said that 'there were lots of fantastic sessions over the two days which demonstrated the value of integration, but Sefton's really illustrated the human element which is at the centre of partnership working; it was evident in both the real life case studies that were shared and demonstrated by the speakers themselves who had clearly fostered a genuine collaborative relationships.'
Adele, Vicky and Sharon also received positive audience feedback for their presentation and were described as 'This was an incredibly powerful session that demonstrated the true value to patients and services when you allow the community to support people and embrace true personalised care. The balance of power and trust in this example were admirable.'
NHS ConfedExpo brings together health and care professionals and around 5,000 were expected to attend the Manchester event.
Huge honour
Cllr Ian Moncur, Cabinet Member for Health and Wellbeing said: "It was a huge honour to be asked to present at NHS ConfedExpo this year and it shows the ground-breaking work that has been going on right here in Sefton.
"I am so pleased that Adele, Vicky and Sharon's presentation was so well received and will be used as an example of the way forward in transforming the future of health and care in the UK.
"They and everyone involved have done Sefton proud."