Trustees' Week 2023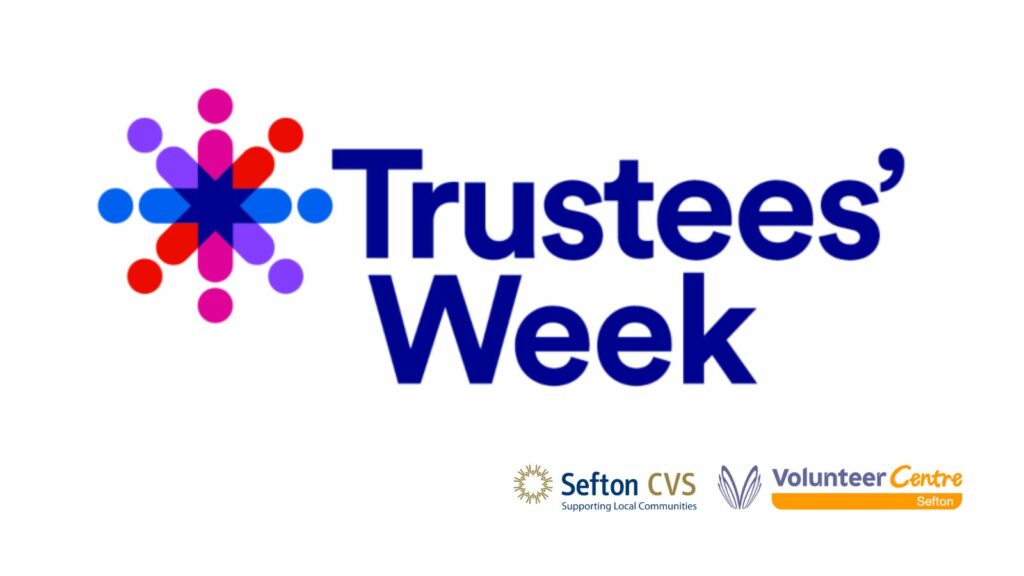 Many voices. Working together. With purpose.
Trustees' Week runs from the 6 – 10 November and is a time to celebrate the achievements of nearly one million trustees across the UK.
Nationally, you can find guidance and support for trustees and charities by visiting trusteesweek.org/guidance-support/
Locally Volunteer Centre Sefton will be celebrating existing trustees and promoting new roles.
Trustees make a tangible and lasting impact on the local community and taking on such a role gives you the chance to champion causes that matter most to you.
By becoming a trustee, you become a custodian of change, with the power to shape policies, drive initiatives, and foster collaboration in Sefton's VCF sector.
Trustee Opportunities 2023
Sefton has a wealth of charitable organisations supporting every aspect of the local community; from helping animals to youth work there are charities supporting whatever you are passionate about.
Most boards are flexible and can meet online or in person.
Take a look at the current board roles available across Sefton:
---
Parkhaven Trust is a charity specialising in providing excellence in care services, leading in Dementia care and providing a range of services from care and support at home to end of life care.
---
CHA are a small, community based housing association, owning just over 400 properties, mostly located in Seaforth and Waterloo.The Association was formed in 1969 by a group of volunteers committed to changing the appalling housing conditions that faced many local families at the time.
---
Tweenie Tots aims to provide affordable, flexible, high quality childcare for parents and families in Litherland.
---
Emmaus Merseyside is an award-winning charity that offers a home, individual support, education, training and work to people who have experienced homelessness.
---
Opera Viva is a friendly and thriving opera company with the aim to bring the enjoyment of operatic music to all on Merseyside. They stage at least one opera and several concerts throughout the year, including a very popular annual Opera Supper.
---
Woodvale and Ainsdale Community Association
Woodvale and Ainsdale Community Association (WACA) provide daytime, evening and school holiday activities for people in the local community.
---
Formby Community Football Club
Set up in 2019, Formby Community Football Club is a club for both children and adults which aims to bring people together across the community. They are looking for committee members.
---
Sefton Carers Centre provides free advice and guidance, practical and emotional support, training and a range of activities and courses for unpaid carers living in Sefton.
---
Theatre in the Rough- Young Trustees
Theatre in the Rough is a festival of new playwriting by 13-18 year-olds from across the Greater Merseyside region. Originating as a one-off production of twelve 10-minute plays in 2006, the festival is now one of the largest playwriting projects for this age group in the whole of the North West of England
---
Litherland Youth and Community Centre
Litherland Youth and Community Centre (LYCC) have been providing activities and services for and with the local community on the current site since 1940. They  facilitate activities and services that enable individuals and families to tackle inequalities and issues they may be experiencing in their lives.
For more information and support for charities and trustees' in Sefton visit volunteeringsefton.org.uk/trustees