UKSPF Digital Connectivity Grants (Round 3) – Online Briefing Sessions, w/c 13 November and 20 November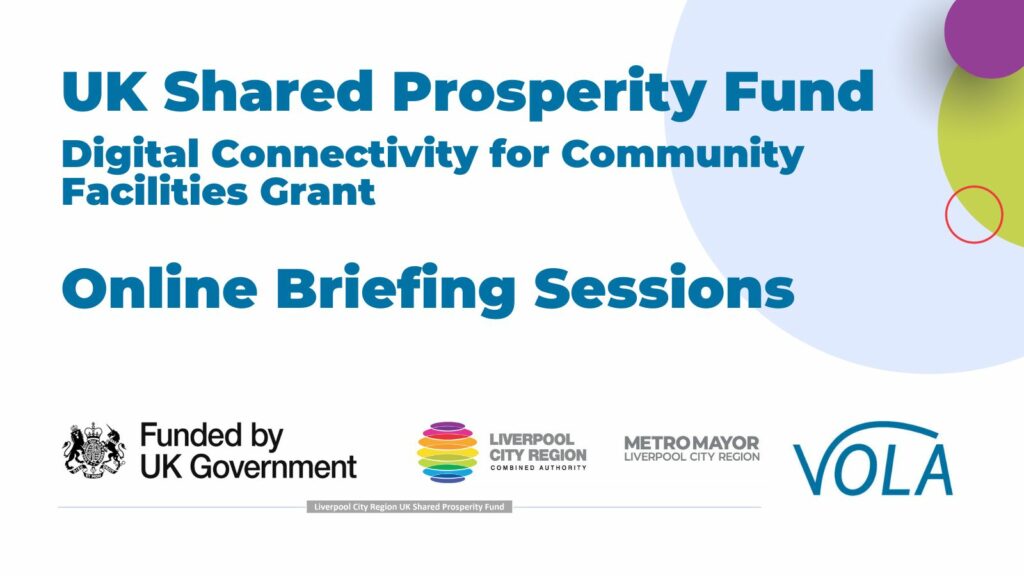 VOLA is launching Round 3 of its UKSPF Digital Connectivity for Community Facilities Grants programme on Monday 20 November. Grants of up to £10k will be awarded to successful applicants in February 2024.
Over the first two funding rounds, a total of £578k has been awarded to 82 Voluntary, Community, Faith and Social Enterprise (VCFSE) sector organisations across the Liverpool City Region. In this round, a further £297k is available, with specific funding allocations for each borough.
Watch this brief film to see if you think this grants programme could be for you.
In partnership with each boroughs' local CVS, VOLA is running a number of online briefing sessions to explain the fund's purpose, eligibility criteria, key requirements, application process and what can/ cannot be funded.  These will take place week commencing 13 November.
In Sefton community groups and organisations will be able to attend a session onFriday 17 November, 10:30-11:30am, hosted by Sefton CVS.
Book your place here
Due to previous funding allocation, Grant Round 3 will focus on North Sefton, however groups from across the borough are welcome to apply.
VOLA will also be present at Sefton's CVS's Annual Conference, providing information from the briefing. 
While each of the briefings will have a local feel, the vast majority of the content will be the same, so people are invited to join whichever session is most convenient.  You will receive the Zoom link when you've booked on.
Technical Briefing Session
An additional, extremely useful online briefing will be held on 20 November, 2-3pm, focusing on technical considerations when developing-public access computer facilities, with plenty of helpful hints and tips on what you need to do, things you will need to purchase, etc. To book your place, email andrew.coulson@volamerseyside.org.uk and he will send you the link.
If you are interested in applying for a grant, it is strongly recommended that you attend both sessions. Each will take no more than 1 hour of your time, will greatly increase your chances of success, ensure that the facilities you set up are fit-for-purpose, and will ultimately help you to avoid lots of potential pitfalls, saving you time/money in the long-run!
For further information on the fund, including FAQs and application guidance, please visit VOLA's website.